Today our CEO, W. Gordon Kruberg, M.D., presented "Designing IoT Devices" at Linaro Connect 2017.
Linaro Connect is a bi-annual event which brings together engineers and industry experts to discuss, learn, network and push forward new technologies for five days in some of the most interesting cities around the world. For the past five years, Linaro Connect has been the event to attend if you are interested in Linux development and related ecosystems on ARM. While the event continues to evolve, one thing stays the same – it is all about Engineering.
Gordon of Gumstix at Linaro Connect 2017
Gordon started his presentation with a brief overview of the evolution of IoT and the importance of the software that is driving it. Then, he demonstrated Geppetto and designed a 96Boards mezzanine in less than 2 minutes.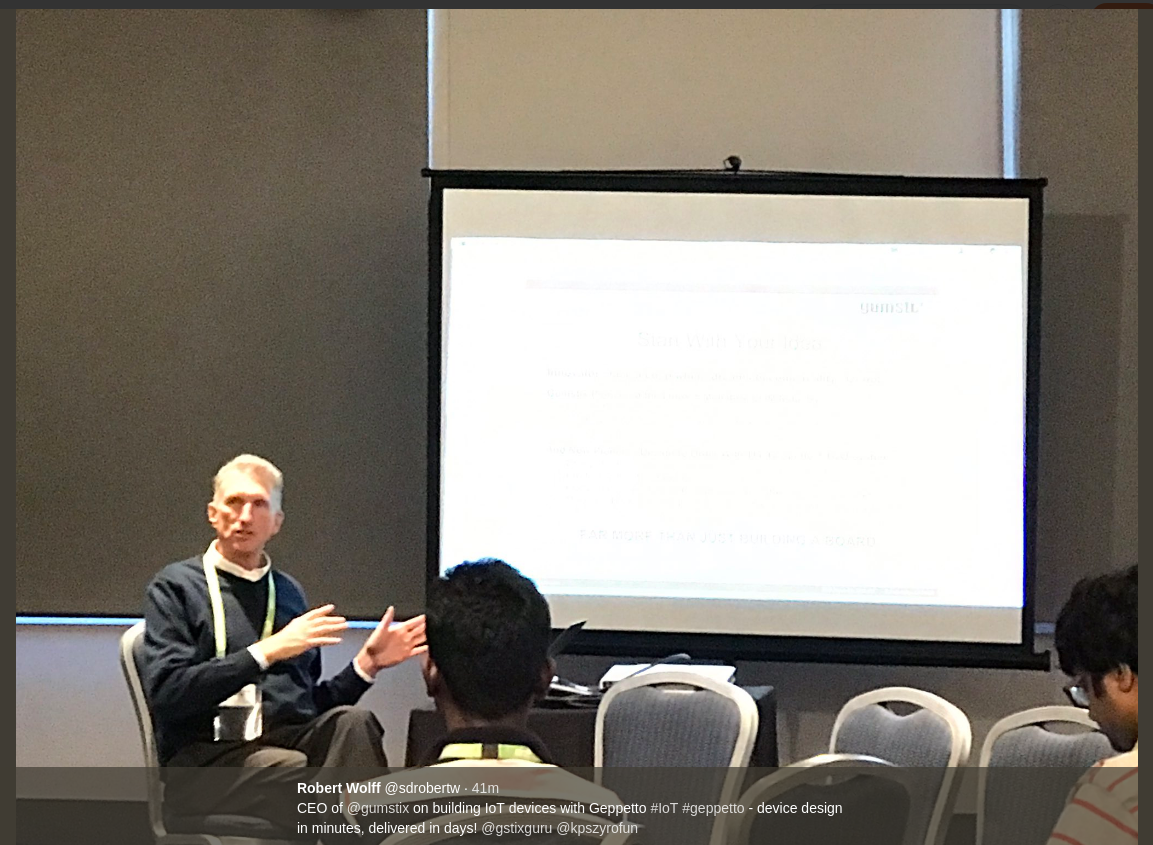 CEO of @gumstix creates @96Boards #mezzanine in < 2 minutes with #Geppetto at @LinaroOrg #Connect #SFO17
End-to-end! @gstixguru @kpszyrofun pic.twitter.com/bhECxxB3Ko

— Robert Wolff (@sdrobertw) September 26, 2017
On top of having a session, our AeroCore 2 for 96Boards (DragonBoard) was mentioned during the Keynote of George Grey, CEO of Linaro.
Other interesting sessions included, Open Source Automotive from Automotive Grade Linux (AGL), a collaborative open source project that is bringing together automakers, suppliers and technology companies to accelerate the development and adoption of a fully open software stack for the connected car.
More Gumstix at Linaro Connect 2017
On Thursday, Gordon will participate on the 96Board Mezzanine Workshop and panel. He will also be a guest on 96Boards Open Hours with host Robert Wolfe. Be sure to tune in to hear some new plans and announcements from both.
Here's how to join the live streaming of the show:
---
Geppetto is our free online design tool that allows you to create a custom board design — no electrical engineering required from you. We handle everything, from sourcing of parts to production, to ensuring that your board boots out of the box. While you focus on your software or application, we take care of production.
After 15 business days, we will deliver your pre-tested, production-ready boards.
---