Argon Design is an electronics and software consultancy based in Cambridge, UK. Our clients come to us for our expertise in product development, and we work with them from concept through to manufacture to develop advanced products embodying the latest technical innovations. Our skills include chip-level and FPGA design, board-level hardware design, and software for embedded platforms, web servers and apps.
---
The Challenge
Dialog Semiconductor commissioned Argon Design to develop a system to test and demonstrate a new range of novel, low power, display interface ICs for the next generation of 2D/3D and Passive Matrix OLED displays for mobile phones and handheld devices.
To demonstrate their ICs, driving a range of display sizes and technologies, Dialog required a flexible platform that:
was aesthetically pleasing (as this would be demonstrated to Dialog's end customers)
was mobile (battery powered, rechargeable)
had a mobile form factor (to demonstrate the product in a platform similar to a mobile phone with a similar user interface)
was flexible (re-usable for demonstrating other display products in the future)
was easy to use (easy for customers / sales teams to pick up and use; no "techie knowledge" required)
Dialog wanted the platform to have the look and feel of a mobile phone so potential customers could easily see the product in its intended use case. They also wanted an "easy to use" and "impressive" demonstration. The platform also had to be re-usable and easy to reconfigure to demonstrate other Dialog products.
---
Our Approach
Argon Design proposed a two-part solution using a baseboard, running a customised port of the Android operating system, with multiple interchangeable daughter boards tailored to each display type. By using the Android OS, Dialog was able to demonstrate the performance effect of their ICs across a wide variety of mobile applications.
To provide a convincing mobile experience, Argon Design ported Android on to the platform (with application and driver customisations as appropriate.) The benefit of using Android was that it provided an engaging user interface experience. We also customised the Android port so that Dialog could easily write and add other demo applications using the standard Google development tools.
In order to provide a flexible and re-usable system, we designed the hardware as a stacked two PCB system, containing a 'baseboard' and 'daughter board'. The baseboard contained the majority of the electronics and provided an expansion connector for the daughter board. The various daughter boards contained the Dialog devices to be demonstrated and provided the interface to the displays and other peripherals being demonstrated.
The system used a replaceable, rechargeable Lithium Ion Polymer battery, that was rechargeable using a USB connection or a 5V power brick, and was able to run for a minimum of 2 hours. A custom metal battery clip allowed the battery to be swapped without dismantling the PCB stack.
The baseboard used an off-the-shelf Gumstix® Computer-On-Module (COM), to reduce the development costs and timescales. The Gumstix Overo® Water COM contains an OMAP3 application processor from Texas Instruments, plus power supply circuitry and Flash storage, with the remainder of the processor IO and peripheral interfaces brought out to connectors.
To create an aesthetically pleasing system, the PCB sandwich was topped with a custom Lexan printed label in customer colours with the customer's logo, and a final custom machined clear polycarbonate top plate to provide a robust wearing outer skin. A black custom perspex plate on the bottom of the device completed the system.
Argon Design produced limited quantities of the full systems, with a handy carry case, for delivery to Dialog's customers.
---
The Outcome
Argon Design produced the first demonstrator systems to aggressive timescales with the system hardware and software working the first time.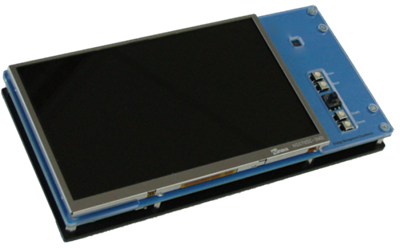 Dialog was able to issue each member of their sales and marketing team with a slick Android demonstrator platform that their potential customers could easily use and evaluate.
A whole range of further demonstrator systems have since been developed on top of the core platform to demonstrate a 2D to 3D display chipset, further PM-OLED display variants and even a Dialog audio chipset.
The Argon engineering team estimates that around 20 man weeks of design effort were saved by using a Gumstix COM, as compared to incorporating the OMAP processor on our own board design. With the additional benefit that the Argon designed board could be of a simpler specification, it did not require micro BGA components, offering significant cost savings to the end customer.
---