We are happy to announce two new Geppetto modules providing for Power over Ethernet (PoE): 'Gigabit with PoE' and 'Gigabit with PoE via USB'. Both modules allow a single Ethernet cable to provide both data connection and electric power to your device. PoE is typically used in devices such as wireless access points, IP cameras, and VoIP phones.
PoE in Geppetto
Gigabit with PoE
The Gigabit with PoE module is 10/100/1000 Ethernet combined with 802.3at PoE, providing ample power. This module delivers power with TI's TPS23752 PoE interface and DC/DC controller and connectivity with Atheros AR8035 Ethernet interface.

Gigabit with PoE via USB
The same hardware as the native Gigabit with PoE delivers power, but the Gigabit interface is controlled using the ASIX AX88179 USB 3.0 Gigabit Ethernet Controller.
You will find both modules under the 'Network' shelf of the modules library in Geppetto.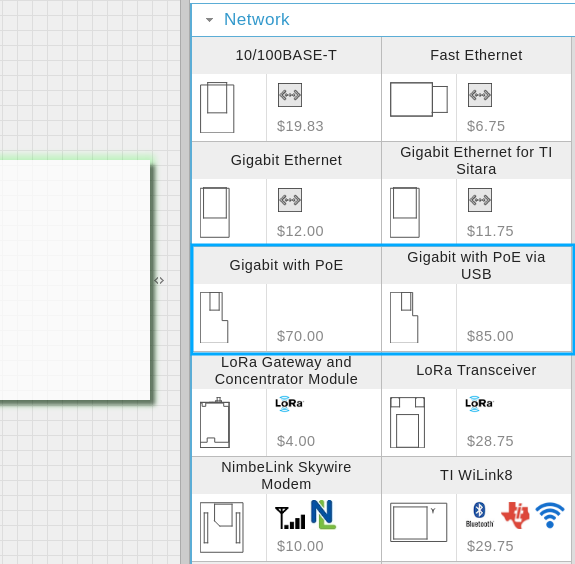 PoE in a Board
If you're thinking of prototyping or testing out the Gigabit with PoE via USB module, check out our Gumstix Pi Conduit PoE carrier board for the Raspberry® Pi CM or CM3. This board is a LoRa gateway development board that incorporates Power over Ethernet for the Raspberry Pi Compute Module.

Ultimately, PoE allows you to deploy anywhere your network can go without the installation of A/C power outlets, making it ideal for LoRa gateways and other edge devices.
---

Geppetto is our free online design tool that allows you to create a custom hardware design — no electrical engineering required from you. Moreover, we handle everything, from sourcing of parts to production, to ensuring that your board boots out of the box. We take care of production while you focus on your software or application.
We will deliver your pre-tested, production-ready boards after 15 business days.
---