Gumstix engineers have just released two new Long-Range Wide-Area Network (LoRaWAN™) modules in the Geppetto hardware library. Now it's simple to add long-range low-power communications to your IoT application.
Simply drag and drop the LoRa® Gateway and Concentrator module on your design and connect it to your SoC or COM connector module and your choice of hardware features such as sensors, GPS, and more.
Or you can also use the LoRa®Transceiver node module with an array of sensors and GPIO modules and connect it to a low-power microcontroller for a battery or solar powered remote data node. All these are now possible in Geppetto!
---
What is the LoRa Gateway and Concentrator Module?
In Geppetto, we provide you with a header for the RHF0M301 LoRaWAN™ gateway, capable of providing LPWAN with a range of 5 to 15 km. The RHF0M301 features long range communications, high stability, and multi channels and multi spread factor receiving. It can be used if you're developing for smart city, wisdom agriculture, metering (water meter, electric meter, or gas meter), or all kinds of other long range IoT applications. Available in European and American frequency bands.
---
What is the LoRa Transceiver?
The LoRa Transceiver module provides an easy to use, low-power solution for long range wireless data transmission. The advanced command interface offers rapid time to market. Some of the applications of this module are for automated meter reading, home and building automation, wireless alarm and security systems, industrial monitoring and control, and internet of things (IoT).
---
Where to find it in Geppetto?
With these additional modules, Geppetto is the application to use for your IoT hardware design for your product. Both modules are categorized under the 'Network' shelf of the Geppetto module library.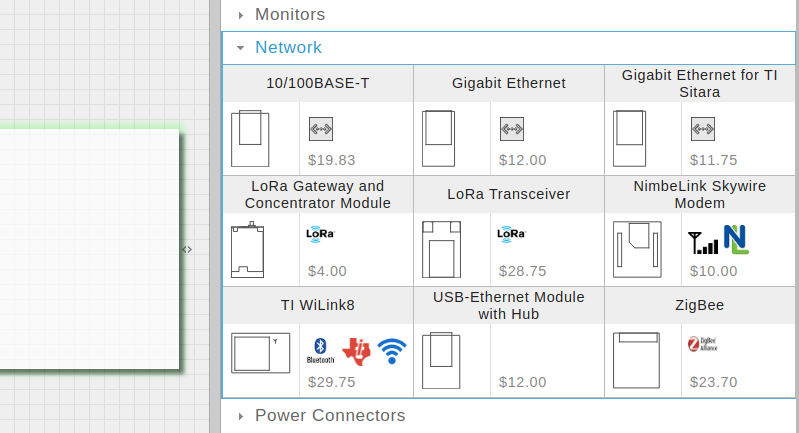 ---
Geppetto is our free online design tool that allows you to create a custom hardware design — no electrical engineering required from you. We handle everything, from sourcing of parts to production, to ensuring that your board boots out of the box. While you focus on your software or application, we take care of production.
After 15 business days, we will deliver your pre-tested, production-ready boards.
---