Are you building a LoRa low power wide area network (LoRaWan™) capable product? Gumstix has three new development boards featuring two new LoRa modules to power your LoRaWan™ IoT application.
All three boards were designed in Geppetto, so if they aren't exactly what you need just log into Geppetto to copy, drag and drop the features you need in minutes for a custom gateway or node solution.
---
Gumstix Strata LoRa Weather Station node
This board is a low-power wireless sensor board for LoRa applications featuring environmental sensors and Microchip ATmega32U4 microcontroller. This weather station uses the LoRa Transceiver node module in Geppetto together with a barometer, ambient temperature sensor, and humidity sensor.
This board is available in our store for $105.00.
---
Gumstix RPi Conduit
This development board delivers long range connectivity anywhere with the Raspberry Pi® Compute Module. It is a LTE-ready LoRa gateway solution with a NimbeLink Skywire connector, USB-Ethernet, and header for the RisingHF RHF0M301 gateway and concentrator module. This board is designed with in Geppetto! If you tinker around RPi CM3 and want to see the possibilities with LoRa, this is the board to get.
The Gumstix Pi LoRa Gateway board is now available in our store only for $84.00. Please note that the RisingHF RHF0M301 is purchased separately.
---
Gumstix Overo Conduit
Explore the possibilities with LoRa technology with one of our Overo COMs with this development board. The Overo LoRa Gateway is a palm-sized Ethernet-connected board ideal for exploring what LoRa can do.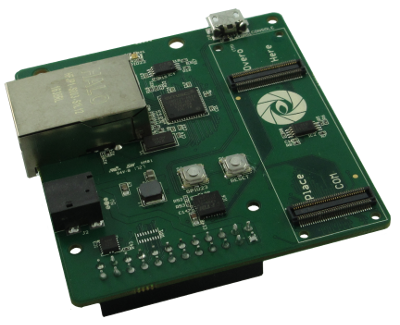 The board is now available in the Gumstix store for $56.00.
---
Here's a tutorial on how to setup, deploy, and export your own IoT gateway and application, featuring the Conduit gateway and Strata weather station node with The Things Network and MyDevices Cayenne using an Overo Conduit and Strata weather station.