It's been an exciting week here at Gumstix! Today, we're announcing something we've been working on lately: The blog you're reading right now.
Hello World
With so many fantastic projects going on in the embedded world, we needed a place to share them with everyone in the Gumstix Community.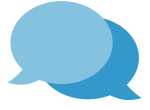 Subscribe via RSS
Be sure to subscribe to get all the latest updates about what's happening. From awe-inspiring space exploration to research in autonomous robotics to the latest advancements in embedded design, we've got you covered!