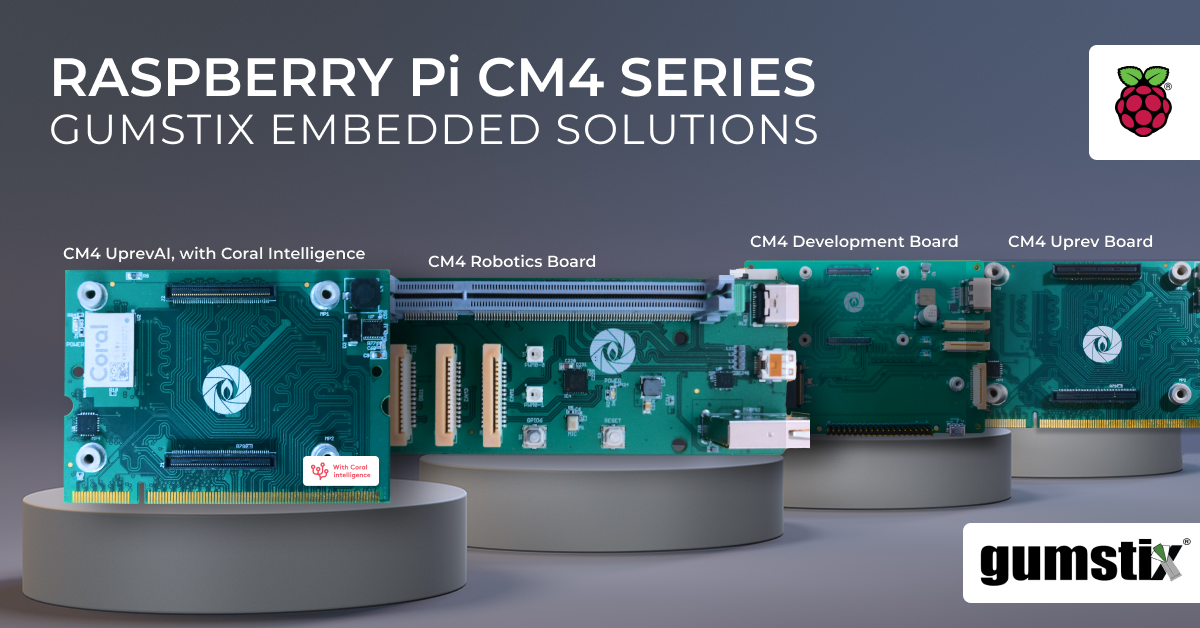 Your next embedded hardware platform won't make it to market without a powerful computing platform, and the long-awaited Raspberry Pi CM4 is here to provide the computing power you need. Gumstix now offers a custom-built Raspberry Pi CM4 Development Board, a turnkey hardware solution for a range of embedded applications. When you're looking for a proven hardware platform for your next embedded product, you can develop powerful applications around the Raspberry Pi CM4 using the CM4 Development Board from Gumstix.
Introducing the Raspberry Pi CM4 Development Board by Gumstix
Designed by Gumstix in Geppetto, the Gumstix Raspberry Pi CM4 Development Board gives you access to all the powerful interfaces you'll find on a standard Raspberry Pi CM4. Built for applications like robotics, AI at the edge, and advanced industrial automation, the CM4 Development board has everything you need to develop production-grade embedded hardware. You can access the following interfaces on the Raspberry Pi CM4 Development Board:
Raspberry Pi 4 Header
USB-UART Console Port
DSI connector for connecting to displays
2 x CSI2 connector for connecting a camera
HDMI port for audio/display
Gigabit Ethernet port
USB Type-A port for expandability
M.2 (M Key) connector with single lane PCIe, compatible with 2280 NVMe drives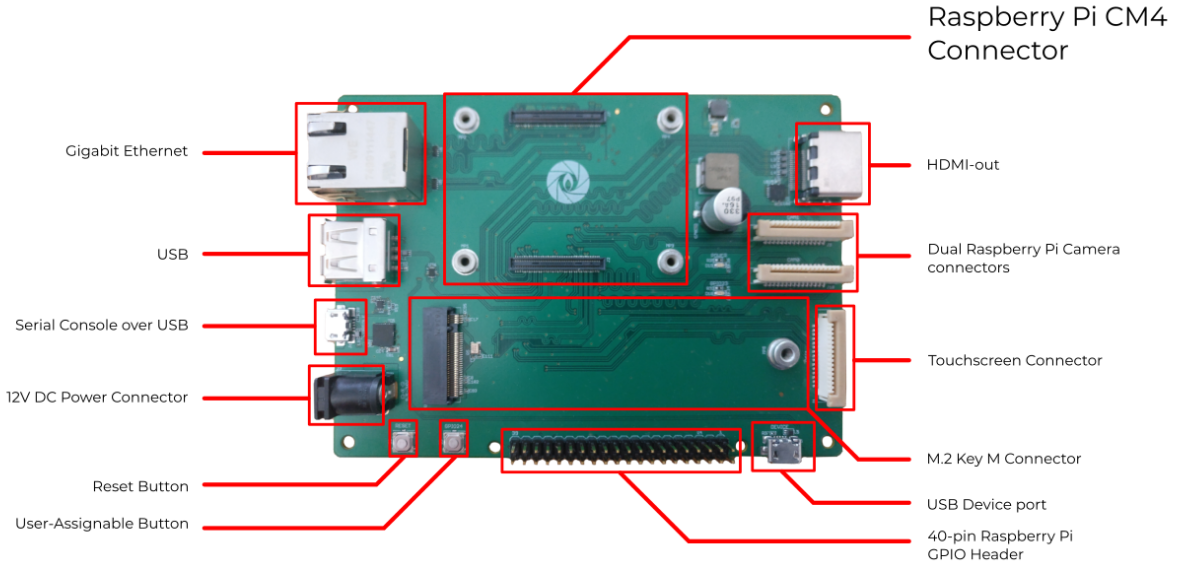 Raspberry Pi CM4 Applications
The additional memory and processing power on the CM4 CoM, as well as its range of interfaces, makes the CM4 module and CM4 Development Board ideal for many embedded applications requiring high compute power, including:
NAS server with fast mass storage via NVMe and Gigabit UL/DL speeds
Media Centers – HDMI, mass storage, WiFi & Gigabit
Edge AI – multi-camera, gigabit & Wifi AP, sensors via Pi header
Smart home management – Touch display controls, facial recognition & occupancy, Data logging and behavior prediction modeling, CM4 Wifi access point, sensors via Pi header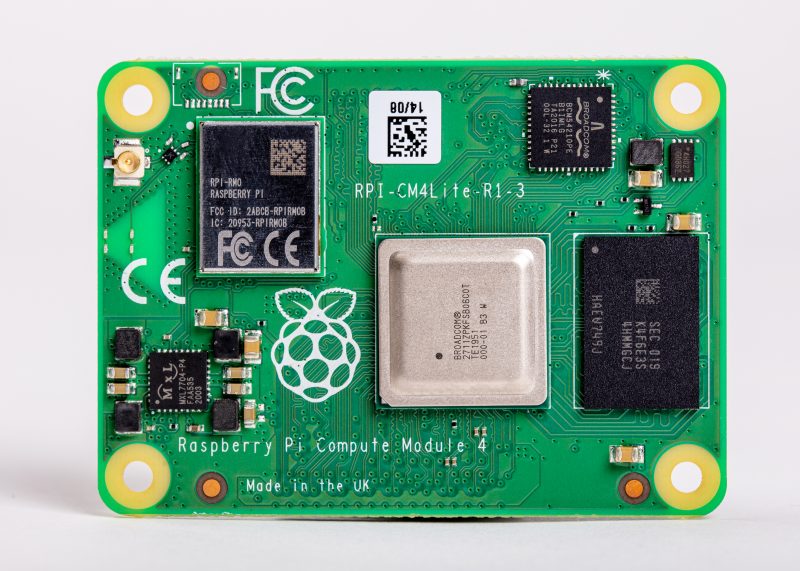 Coming Soon: UPrevAI with Coral from Google
If you're building for advanced applications like edge computing and embedded AI, the Gumstix Raspberry Pi CM4 UPrevAI board supports Coral from Google via the exposed PCIe lane on the Raspberry Pi CM4 module. This powerful combination of Raspberry Pi CM4 and the Coral TPU is only available from Gumstix and provides a robust hardware platform for developing AI-capable embedded systems.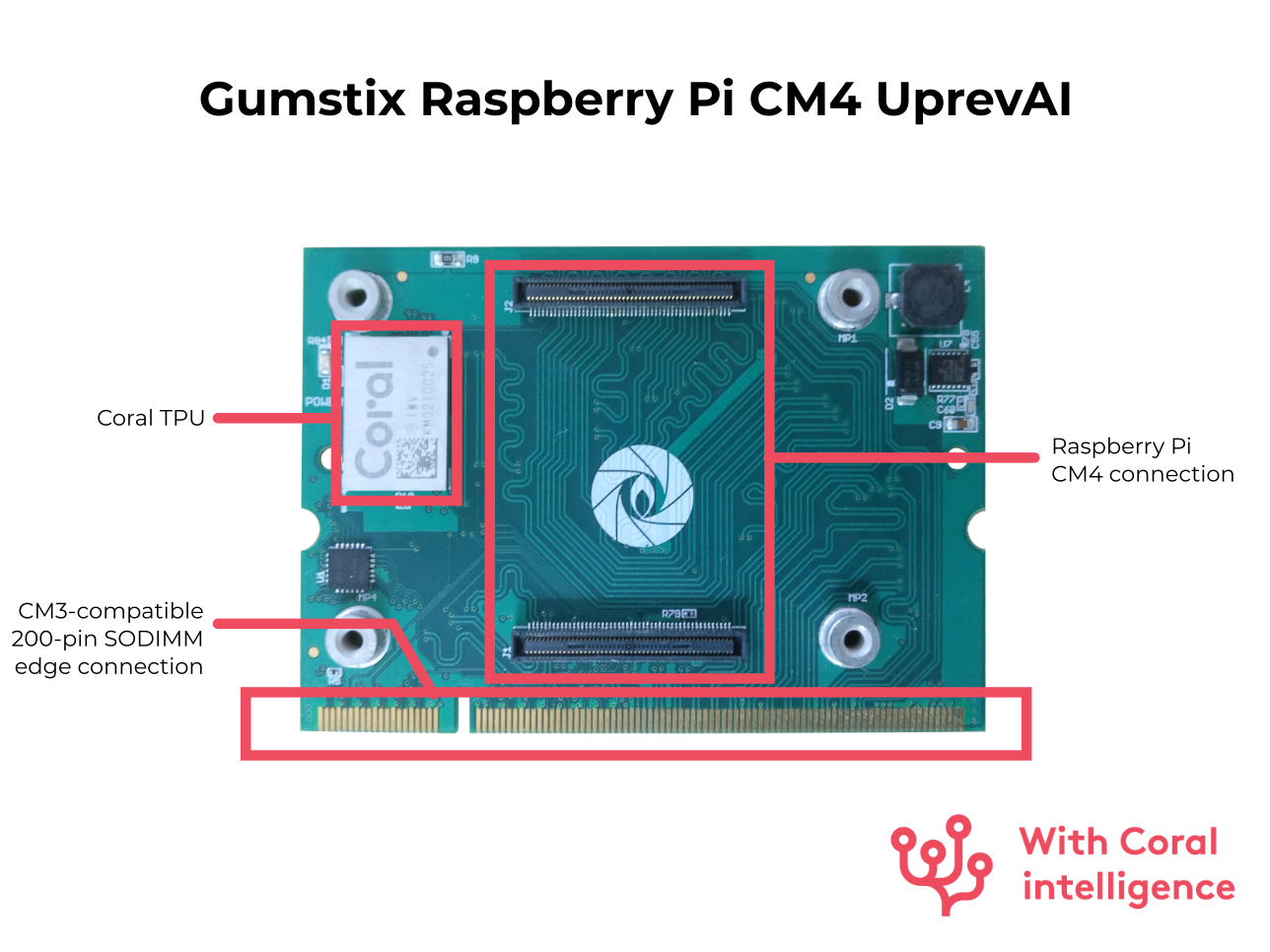 Add the power of a CM4 and Coral from Google with accelerated Tensorflow to your existing CM3 carrier board through a CM3 edge connector. The UPrevAI board is the fastest way to upgrade your existing hardware solution and add embedded AI capabilities.
Other CM4-Enabled Embedded AI Products from Gumstix
Gumstix Raspberry Pi CM4+Pixhawk FMUv6
The Gumstix Raspberry Pi CM4+Pixhawk FMUv6  brings together 3 powerful compute devices.  With the Raspberry Pi CM4 module, the Coral TPU, and the ST Micro STM32F7 MCU, along with support hardware for MAVs, rovers and other robotics platforms, designing TensorFlow-assisted autonomous vehicles has never been so accessible.
The Gumstix Raspberry Pi CM4+Pixhawk FMUv6 is one of the first boards conforming to Pixhawk's v6 standards for Flight Management Units (FMUs), including on-board sensor bank, standard Pixhawk data and power connectors, octal PWM outputs, and firmware support.
Gumstix Raspberry Pi CM4 PoE Smart Camera
The Gumstix Raspberry Pi CM4 PoE Smart Camera carrier board combines Power over Ethernet and the Coral AI accelerator chip with the Raspberry Pi CM4 and Raspberry Pi Camera to deliver a fast and powerful image classification, object identification or behavioral inference computer with low latency and single-cable deployment.
Design Your Own CM4 Board with Geppetto from Gumstix
If you want to develop your own board for the Raspberry Pi CM4, you don't need to be a PCB design expert. Instead, try using the modular design tools in Geppetto by Gumstix. You can take an existing development board and add proven hardware modules in a browser-based drag-and-drop interface. You'll have access to a range of modules, including:
GPS/GNSS modules
LCD/OLED displays
Camera modules
SD Expansion cards
Once you've finished your design, you can quickly place your custom board into production inside Geppetto. No other platform makes embedded systems design this easy. Whether you want to design for the Raspberry Pi CM4 or other industry-standard COMs and popular modules, try using the modular electronics design tools in Geppetto.
Take a look at all of the Gumstix Rapsberry Pi boards or contact us today to learn more about our products, design tools, and services.